The Neros Foundation
Ethos
The Neros Foundation supports the people of Flores, Indonesia, by providing basic but vital infrastructure. By doing so we aim to preserve and protect health, improve education and promote the conservation, protection and improvement of the physical and natural environment of Flores. We take our name from the village of Neros where our first project was completed.
Background
The Neros Foundation was established as a UK registered charity in 2005 and has a successful track record of delivering benefits for the people of Flores. It has installed (and subsequently upgraded) the first piped water supply to Neros and Bebot villages, and has built toilet and sanitation blocks for primary schools in two villages. These projects have directly improved the lives of over 1,500 people.
People
The Foundation is a small organisation with 5 volunteer trustees and loyal supporters; the organisation has direct links to Flores, as one of the trustees originates from the Island. Marcell, he married Angie and together they initiated the concept of the Foundation with friends, whilst living in the UK. They have spent 10 years living and working in the UK and have now returned with their family to live in Flores.
Overview of the charity to date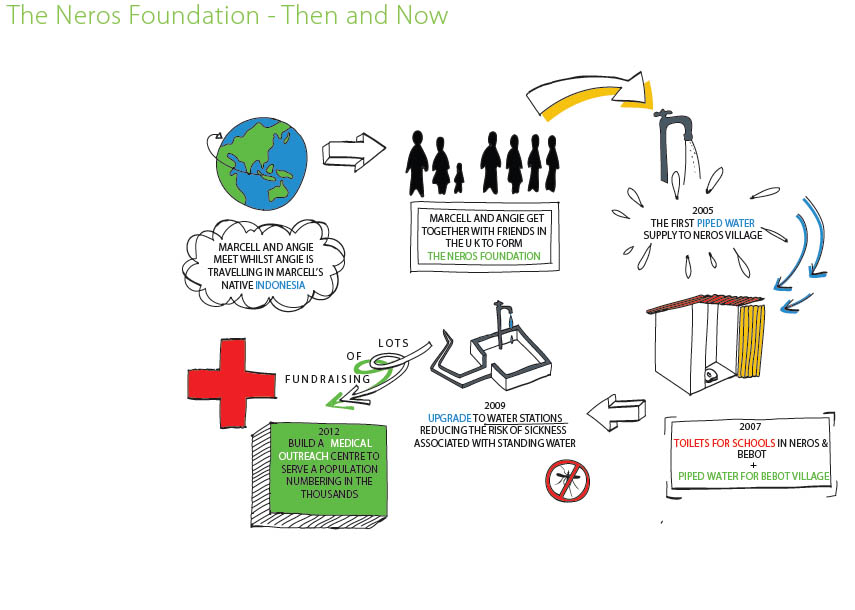 Current Project
Our current project is a medical centre which will provide facilities for primary healthcare and health education, serving several thousand people who live in a rural region of Flores.
Construction has started on the centre which will be supported with a resident doctor and nurse. It will aim to provide primary care and health education to several thousand villagers.
In line with government guidelines and local expectations, the centre will include consulting rooms, a waiting area, a small number of rooms for patients and accommodation for medical staff. Ancillary to the centre will be a fresh water supply and facilities for washing, sanitation and power generation. There will also be a cooking area so families can cook on site for their relatives in care.
The medical centre aims to help overcome the barriers which rural communities currently face when trying to access healthcare and medical advice; villagers' journey time and travel costs will be significantly reduced allowing them to spend more on the treatment itself, and they will receive assistance in a familiar community setting.
In addition in the future we hope to be able to offer GP clinics, childhood vaccination programmes and education sessions for pregnant women, midwifery and new mothers, and to use the medical centre as a base for training local nurses in the future.
Construction
The Foundation was fortunate to have the support of a firm of Architects from Bath in the UK who have worked with us on the design and most importantly the use materials, environmental awareness and use of sustainable materials has been a major consideration in the construction phase. This project has introduced a new method of compression brick making, using the soil and far less concrete and rekindled old methods, by using bamboo for the roof structure. Marcell (Neros Trustee) has been on site managing the build which has employed more than 30 local workers, who have benefitted from learning about the new techniques and of course the personal income.
Community
As one of its key principles the Neros Foundation actively encourages local participation in all its projects, starting with the consultation process! This both encourages community ownership, project sustainability and enhances the local economy by employing local labour for construction.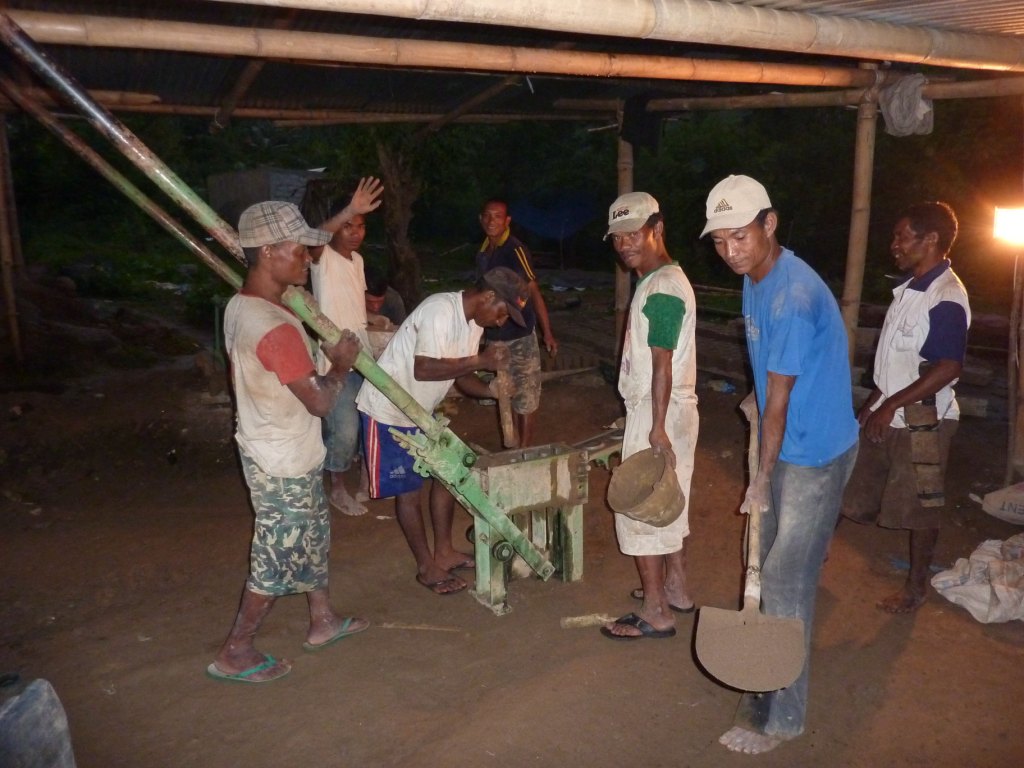 Fund Raising
A number of different approaches to fundraising were taken for this particular project and it took over 3 years to reach the target. All fundraising took place in the UK and was driven by the trustees, Marathons were run, including the Bath half and the London 2012 Marathon, a cycle ride that took a team of 7 across the width of England (C2C), duck races in the local pool, School Harvest Festival designated charity and our regular Christmas card sales. It is only with the continued interest of a small nucleus of supporters that this dream is being fulfilled.
The Future
The near future will involve upgrades to the centre, we would like to include solar power and also to add a Nurses training room, but don't yet have the funds. If there are any donors out there who would like to be involved, it is not too late, please email us are nerosfoundation@yahoo.co.uk
Contact:
The Neros Foundation
41 Norris Road, Reading, Berkshire, RG6 2NJ.
United Kingdom
Tel: +44.7795 281476
enquiries@nerosfoundation.org.uk