Char Main foundation
Foundation CharMain is active since 2004 in district Sikka in Flores.
Our main goal is to help the people of East Flores to immediate access of clean drinking water and therefore improving their overall health, which will ultimately lead to less poverty.
We work together with a local NGO to provide every family in this area with one watertank and one sanitation house with education for better hygienic life and formaintanance and reparation.
We are proud to say since the CharMain Foundation was founded , we have built 63 water tanks, which can hold up to 30.000 litres of captured rain water, 63 sanitation houses and educated the locals in understanding and improving hygiene, health and overall awareness.
The standard of living for the people of East Flores has increased due to our project. They have experienced less diseases, sicknesses and infant deaths.
The children are able to attend school, the livestock and crop sales have increased.
A widow-weaving group has also taken form.
This year construction starts for six water tanks and six sanitation houses with Towertanksfor public buildings.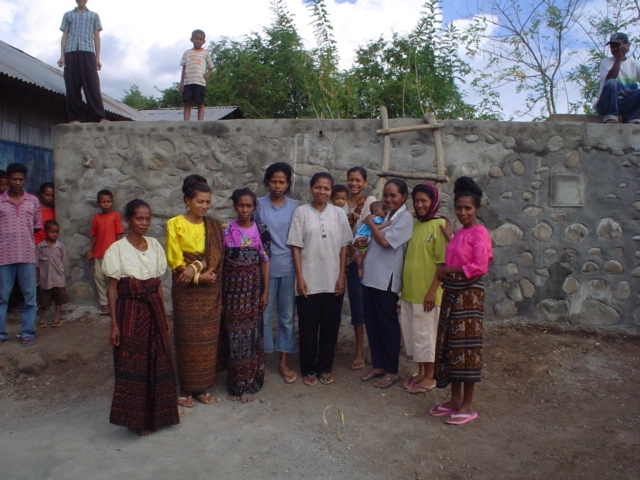 Women pleased with their new watertank
Our next big plan for 2012 is the Bore water project, we conducted an extentive search for a groundwater site, and hopefully we will be able to bore water powered by solar panels good for couple of hundreds till thousand people.
4th installment project watertank, sanitation house & CHCM education , April - October 2009
Contact:
Drs. Sjenny Kamperman
Stationsweg 10
7468 AT Enter
The Netherlands
Tel. +31 (0)547 381882
e-mail: sjennykamperman@hotmail.com